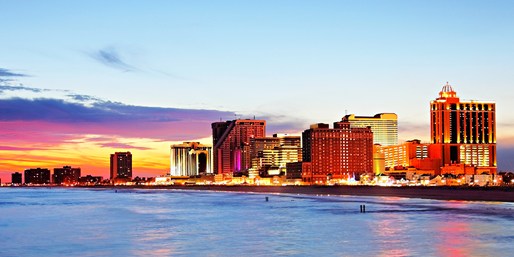 There is a good Atlantic City deal from TravelZoo for those of us here in the North East who wouldn't mind a short getaway. You can get an upgraded room at the Showboat on boardwalk, $40 dining credit, and $20 in free booze for $59 a night. Since I can always use free food and booze without leaving anything on the table, that's for all goals and purposes, a free upgraded room. And (you can start laughing now if you wish) I totally don't mind winters in AC. The boardwalk is empty, the casinos are half-empty, and there are very few screaming children at the pool except my own.
Of course, many of us have free hotel nights in AC anyway, even a pathetic low-roller like yours truly. Even so, this is still a great deal. Complimentary nights are mostly limited to two in a row. With this deal. you can combine your showboat vouchers for longer stay and/or combine them with your own complimentary stay (or stays). Since I have comps at both the Taj and Resorts, I wouldn't even have to walk outside to change rooms. It's that easy. Besides, I stayed in their upgraded Burbon room once, and it was quite decent.
Another idea: spread out. Get the kid(s) their own room (if you can trust them). You will pay $118 per night, but you'll get $120 daily credit along with some privacy. Priceless!
Here are the T&C from the horse's mouth:
Now, if any of you were wondering why I haven't been posting much lately, here is why:
It's almost CHRISTMAS TIME!
It means to me different things than it means to other people. I'm crazy busy writing and updating books for the holidays. I'm writing the Second Edition for my flagship TRAVEL FREE book; I'm updating HILTON and ATLANTIS; and I'm writing three new books as well. And then there is marketing, which as you can judge by this pathetically non-monetized website I'm not especially good at. God help me finish at least something!