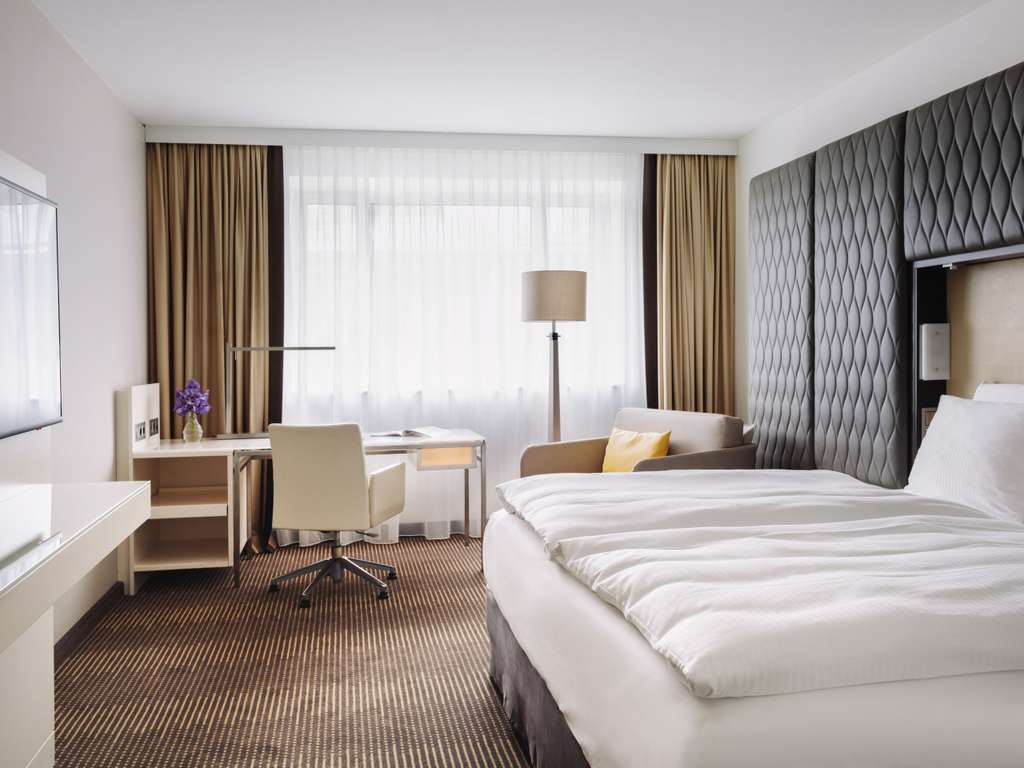 I'm in Stockholm now. It's hard to believe I was reluctant to stay in Berlin for five days; I though I might get bored. Now I'm sad I had to leave so quickly. It almost feels as if I didn't see anything…
What an awesome city!
My prior visit to Berlin was 2 years ago on a 23-hour layover. We stayed at the Holiday Inn on Alexanderplatz and only managed to squeeze a walk along Unter Der Linden to the Brandenburg Gates, getting on the Observation Deck of the TV Tower, a short visit to the East Side gallery and a nice dinner. I saw so little that time that it only wetted my appetite.
This time I decided to stay in West Berlin. Checked hotel prices, and they were quite good. A room in a 4-star hotel in a central location went for under $90, so I decided to forgo points as well as rentals. Both options are unnecessary in this town, IMHO.
United 962 EWR-TXL Business Class in Boeing 757
You know your lounge time is going to be fun when you see a sign like this.
And indeed it was. For the first 15 minutes I couldn't find a seat. But I persevered. 🙂
About the flight. I honestly feel like a jerk complaining about a lie-flat seat, so I won't dwell. Let's just say it's not ideal, because the cubby is so narrow that you won't know what to do with your feet.
It's more of a nuisance than it sounds, and I was unable to sleep at all. You can manage to stick your feet in, but only barely and only if you're sleeping on the side. I got maybe an hour of sleep in total if you count going under for 10-15 minutes at a time.
If you are flying solo, your only choice is the middle section, as the cabin features a 2-1-2 configuration. Otherwise, you will be stepped over every time your seatmate needs to go to the bedroom (unless you're in the window seat, then you will have to step over someone).
Other than that, I though, the food was pretty good and the service was excellent! The movies line-up was good too, Since I couldn't sleep, I've watched three. Helped to kill time, that's for sure.
Getting the Hotel
I already mentioned my Hotwire secret hotel in the previous post. I had almost booked a place with Hotels.com when I decided to check some reviews and found that the hotel that I'd almost booked didn't have the AC. Now, you would expect that a 4-star property would have air-conditioning by default, but you would be wrong. Europeans, I found, are very relaxed about air-conditioning in general; it's a dry heat, blah-blah-blah, you know.
Anyway, long story short, I'm browsing the Hotwire secret hotels and seeing a listing for a "secret" 5-star hotel in the vicinity of the Berlin Zoo. I did some more reading, and it seems the location is nearly perfect. At $73 per night, I thought I couldn't go wrong, and with Pullman Berlin Schweizerhof I didn't. Besides, the $10 resort fee Hotwire claimed I'd have to pay directly to the hotel never happened. Hotwire probably mentions the fee just in case some hotels decide to charge it, but I wasn't hit with it.
Pullman Berlin Schweizerhof Review
This Accor hotel is a great property in a quiet part of Budapester Straße. It's a 3-minute walk from the Zoo and one block away from Intercontinental. My room was small, but nicely appointed. Most importantly, it was available immediately upon arrival around 9AM. I hadn't had any sleep on my flight, so a nice hot shower and 3 hours of sleep were exactly what the doctor ordered.
The street is very shady with a lot of old trees, and the view was lovely. There was almost no outside noise, which is a good testament to the efficiency of the hotel's double-pane windows.
My rate didn't include breakfast, of course, but on some mornings they had coffee, juice and some croissants in the lobby. I only discovered it on the last day when I left the hotel around 5:30AM. I didn't see it on the other days when I got to the lobby around 9-10, so it's probably gone by then.
Pullman Berlin Schweizerhof: Food Options
The hotel has a restaurant that's priced exactly like five-star hotel restaurants are priced. Breakfast was 24 Euros, and everything else was downhill (or rather uphill) from that, so I couldn't justify the expense. This is an issue because while there are plenty of nice eateries around the hotel, none of them open before 11. If you are in the area during the day, try Nico, a nice Greek cafe, across from the Intercontinental.
Pool and Spa Area
The pool and spa are in the basement and open until 10PM. The pool is shallow, but really large, and very good for swimming. There were always people there, but it didn't seem crowded. Never gotten to the Spa, sorry.
Pullman Berlin Schweizerhof: 
Quirks
There were a couple of things I didn't fully enjoy. In-room instant coffee with a teapot is one of them, but that's a European thing, too. I'm having teapots with instant coffee here in Stockholm, too. At least, you can have tea if instant coffee is not your thing (it's surely not mine, although when I need caffeine I'll settle).
Another thing that I found interesting was ice service, There are no ice machines in the hotel, and when I called to get some, I was told they'd have to charge me unless I was willing to grab it at the bar. It's not a huge deal, but come on, you are a five-star hotel, are you not? LOL!
Pullman Berlin Schweizerhof: Extending My Stay
I initially booked the hotel for three nights because I also wanted to visit Leipzig, Dresden, or both. When it became clear to me on the third day that I hadn't seen anything yet, I asked the hotel manager to extend my stay, but they quoted 118 Euros per night. I then went back on Hotwire and entered my search parameters. This time a 5-star "City Center – Tiergarten – Berlin Zoo area" hotel went for $69.
It was risky, but not really. The worst thing that could've happened would be me having to walk across the street to Inter Continental, but it turned out to be Pullman again. Win-win.
Next: Berlin Tips for First-Time Traveler